FACULTY
We own a qualified and experienced faculty at A J College of Pharmacy who would provide their total commitment for our student community for their professional and personal development. Our competent faculty ignite the quality in the training we offers and also it needs to be stressed that our college has been maintaining commendable results in the board exam.
OUR PRINCIPAL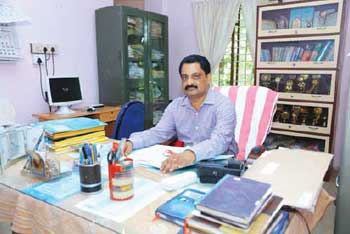 Mr. D Sunil Kumar did his Pharmacy Education, U.G from Bangalore University, P.G from Tamilnadu Dr. M.G.R Medical University. Presently serving as a Principal A J College of Pharmacy, Thonnakkal, Trivandrum. He had 25 years teaching experience in the field of Pharmacy Education. He is a dynamic personality, his service has resulted in great progress in this institution.
Held positions under:-
Kerala State Pharmacy Council as a Registrar
Member of Editorial Board of the Kerala State Pharmacy Council Journal
Achievement:-
He is well known personality for his administrative capabilities and he is a major icon behind the growth and success of A J College of Pharmacy.
Membership of various Organizations:-
Governing body member of Pharmaceutical Society of Kerala.
Member of IPGA (Indian Pharmacy Graduates Association)
Member of APTI (Association of Pharmacy Teachers India)
Member of Federation of Indian Pharmacist Organisation (FIPO)
Contact:-
Mr.D Sunil Kumar (M.Pharm)
Contact No: +91 9847352019
Email: sunildpk@gmail.com, sunildpk@yahoo.com
OUR VICE PRINCIPAL
Mrs. R Sangeetha
Email: vicesangeetha@gmail.com
FACULTIES
Mrs.R.Sangeetha (Vice
principal)
Email: vicesangeetha@gmail.com
Mrs. Rethikala S.M (Senior
Lecturer)
Email: rethikalas@yahoo.com
Mrs. Parvathy J I (Lecturer)

Email: parvathyj53@gmail.com

Mrs.Athira L S (Lecturer)

Email: athiraajith2015@gmail.com

Mrs. Anjana Raj A (Asst.Professor)

Email:anjanarajsurya94@gmail.com

Mrs.Atuliya P S (Lecturer)

Email:athulyapss@gmail.com

Mrs . Arancha G M (Lecturer)
Email: arancha365@gmail.com